Seifert Night at Belgrade Jazz Festival
28th of October 2021, at 7 PM, Main Hall DOB
MARCIN WASILEWSKI TRIO & JOE LOVANO

Piotr Damasiewicz & Into The Roots

The Zbigniew Seifert Foundation was established in 2010 for the dissemination of its patron's music and legacy, the support of young artists performing improvised music on bowed string instruments, and the promotion of Polish jazz abroad.
The most important event organised by the Foundation so far is the Seifert Competition www.seifertcompetition.com. Apart from cash prizes, we strive to support our prize winners in their musical careers by holding their concerts in Poland and abroad as well as having their music released.
Seifert would celebrate his 75th birthday in 2021. For our Foundation it has been a breakthrough year, in which, despite obstacles related to the pandemic, we have managed to organise the 1st Seifert Jazz Days festival and inaugurate the vastly conceived project called Seifert Nights - The Best of Polish Jazz. Belgrade Jazz Festival is our project's first partner, and we are proud to be able to hold such a substantial presentation of the Polish jazz scene in Belgrade, all under the patronage of Zbigniew Seifert and with his name in the title.
Zbigniew Seifert is one of the most eminent figures in Polish jazz history and one of the key personalities in the world's jazz violin scene. Despite his short life (1946-1979) his uncompromising effort at the completion and authentic presentation of his music has yielded impressive fruits, and though his output is not large, we are happy to promote the timeless value of his legacy.
We are immensely grateful to the organisers of Belgrade Jazz Festival for the possibility to cooperate and to present an excellent Polish music programme featuring a US star. I am convinced it will be an extraordinary jazz night.
Seifert Night presents: Marcin Wasilewski Trio feat. Joe Lovano, Mateusz Smoczyński Trio, and Piotr Damasiewicz Trio.
Belgrade Jazz Festival and the Zbigniew Seifert Foundation invite you to the first ever Seifert Night, the best of Polish Jazz!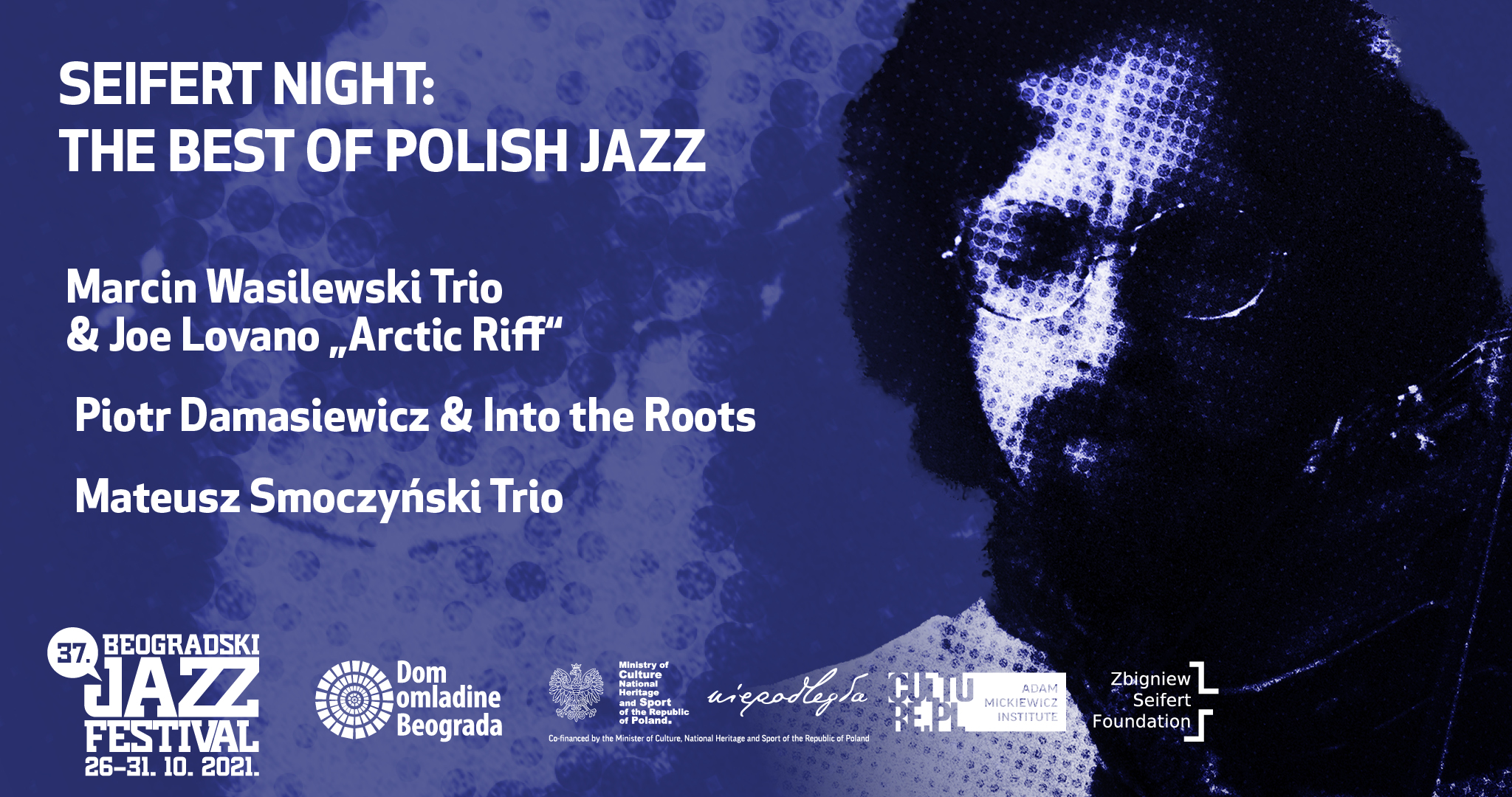 Financed by the Ministry of Culture and National Heritage of the Republic of Poland as part of the multi-annual programme NIEPODLEGŁA 2017–2022